Pattern collections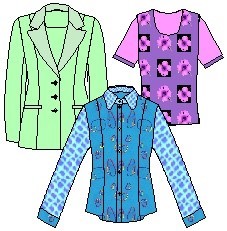 Making your own clothes will become real fun!
With PatternMaker and a Pattern Collection you can finally sew your clothes based on your own measurements and they will fit better than customized clothing.
A PATTERN COLLECTION consists of one or more programmed models, the Pattern Macros, with which you can draw made-to-measure patterns based on your own body measurements. With PatternMaker Basic which is free included with every collection, you can print these patterns on true scale with an A-4 printer.
When you have a higher version of PatternMaker you can edit the patterns to your own ideas.
The designer Leena has made for PatternMaker some very attractive collections to sew a complete lady's wardrobe.
Each time you can make a different model just by choosing a different style.
TAKING MEASUREMENTS is very important for a good fitting of the patterns. Therefore follow very carefully the measuring instructions, which every designer has added to the collection.
See also PatternMaker Basic!
Select first a designer to select a collection.