MacroGen 4.5 EN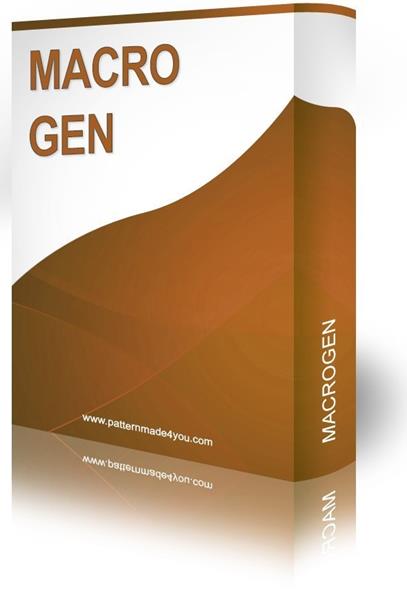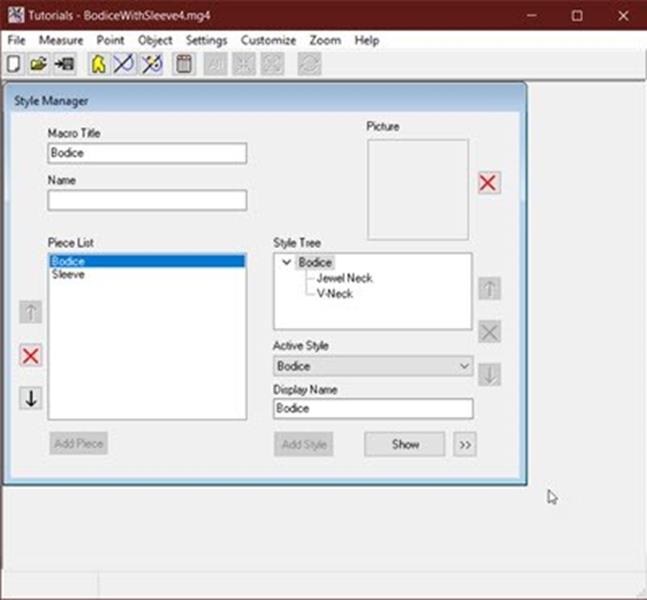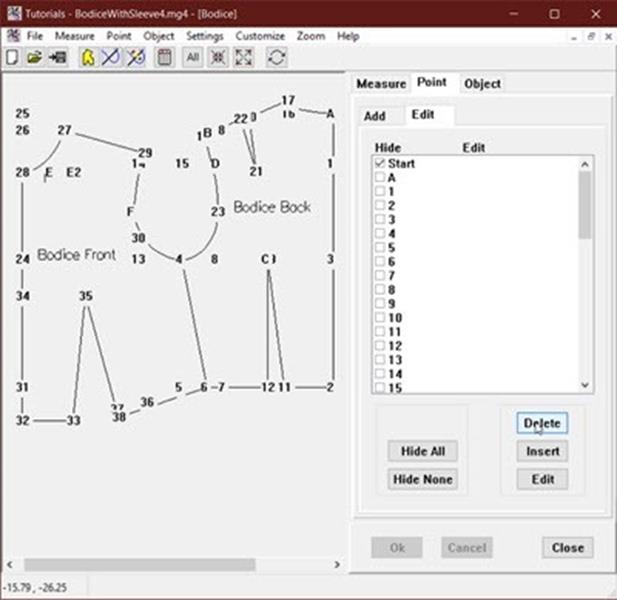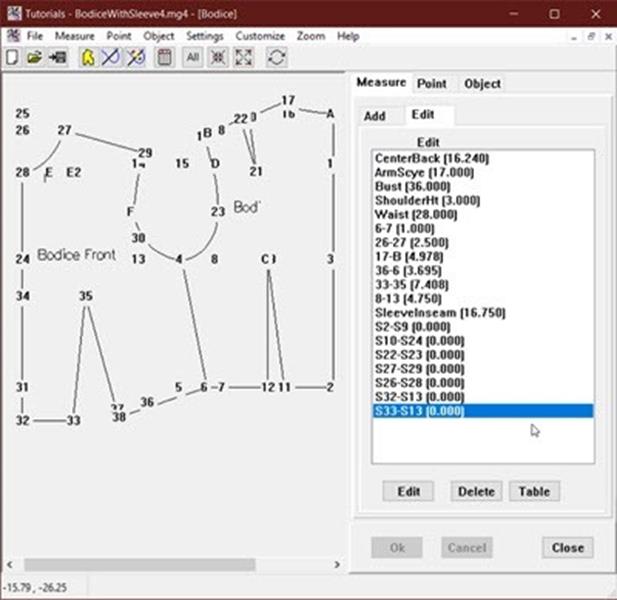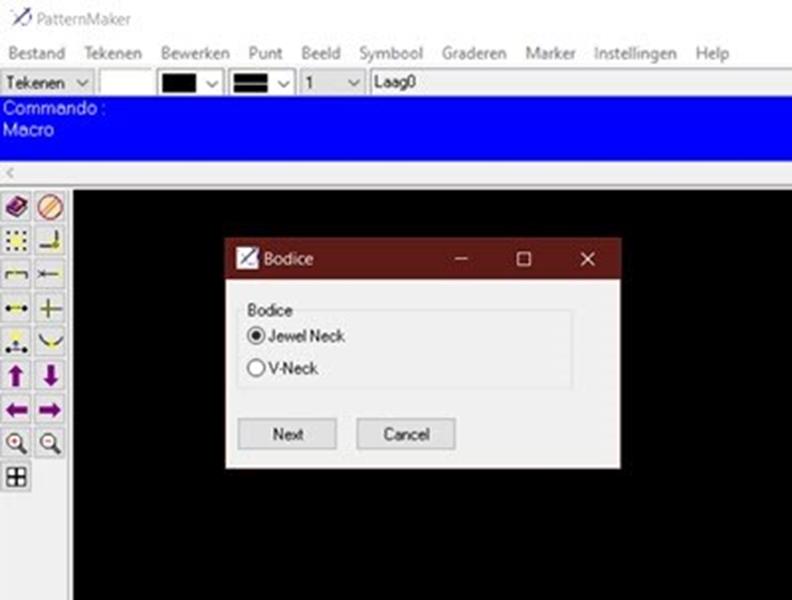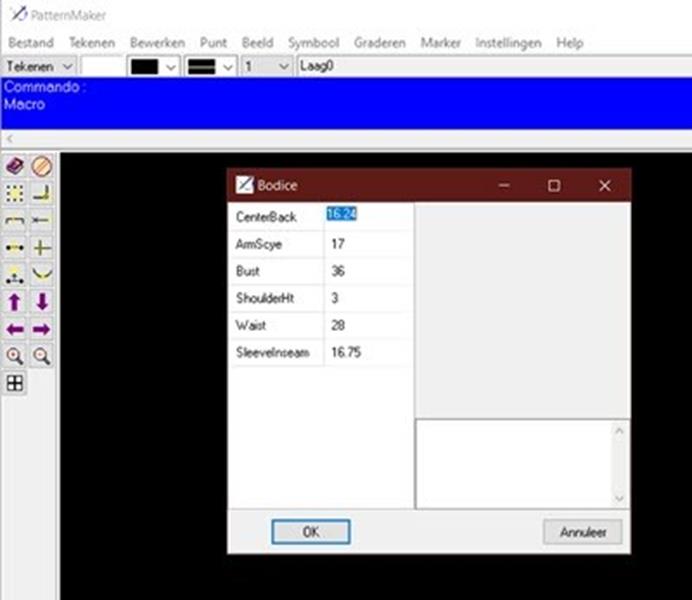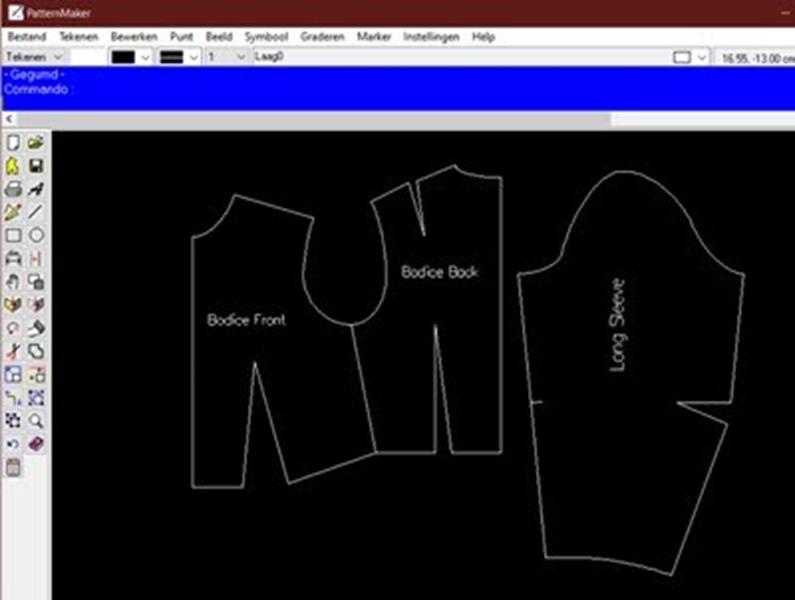 Programm your made-to-measure pattern.
MacroGen is a fantastic program to PROGRAM your patterns in stead of drafting it as in PatternMaker.
As a designer you create with MacroGen Pattern Macros of your fashion designs, which can be used in PatternMaker to draft made-to-measure patterns
A Pattern Macro is a small add-on program made with MacroGen, which runs within PatternMaker.
The created Pattern Macro is opened in PatternMaker,
the user selects the style options,
and adds his measurements.
PatternMaker drafts the pattern of your predesigned model based on


your formulas in the macro,
the selected style options
and the prompted measurements.  

Ideal for drafting a pattern for a custom-fit garment.
A Pattern Collection consists of one or more Pattern Macros.

While you are creating your Pattern Macros in MacroGen there is a unique cooperation between MacroGen en PatternMaker to test the macros over and over and edit them.
Therefore you need to have MacroGen 4.5 as well as PatternMaker Professional 7.5 or higher version to be able to test and edit the macros.
MacroGen is an engels program.
An ideal program for a fashion designer, pattern maker or tailor to offer made-to-measure patterns.
Try the free demo for 30 days!
Request Demo MacroGen
Use this form to request a free demo of MacroGen to test the programm for 30 days .
Fill in your name and email address and send in your request.
MacroGen offers the following features:
Using MacroGen designers can convert quick and easy their designs from paper to a macro, which can be read by PatternMaker.
You do not need to know programming language to work with MacroGen. What is important is, to have a good knowledge of your pattern drafting system.
Turn your own designs based on

 

your drafting system

 

into a Pattern Macro that can be used with the Patternmaker Basic viewer(free) or a higher version.
With the PatternMacros you create with MacroGen you can draft

 

made-to-measure

 

patterns for each customer.
In the macro you can offer your customer several

 

style options

 

with the Style Tree; think of ease options, dart options, which collar model, which pocket model etc.
A very extensive number of features for adding

 

points and measurements

 

necessary for drafting your pattern.
The prompted body measurements necessary to draft the pattern can be saved in a default Measuretabel. By adding a table to the macro the users can save their measurements in a measuretable and use it every time without having to give in the values again.
Measure instructions

 

and pictures can be added to all prompted measurements.
Create an attractive professional product by adding

 

pictures, fotos and texts

 

to your style options.
Use the

 

Logic

 

window (if and thens based on measures and points) to refine your pattern what should change in the pattern under special circumstances like the amount of darts. Your patterns will get an improved fit or measuring.
Pattern Macros can be for own use or

 

used for sale.
The

 

interface

 

of MacroGen was created in a way that if you can draft on paper, you can also program in MacroGen.
The interface is intuitive and easy to learn.
With the

 

Test and Edit

 

Macro function in MacroGen there is a unique cooperation between MacroGen and PatternMaker to test your macro and edit the pattern.
Translating

 

your macro into other languages.
Print a

 

report

 

of your programmed pattern.
 

Do you want to sell your Pattern Macro?
With COLLECTION CREATOR you create a set-up file with all the necessary files included like your macro, the measuring instructions, the style option pictures, the measurement pictures, the sewing instructions. Users can install the Pattern Collection (consisting of one or more PatternMacros) in a proper way for using it in Patternmaker.
Which version of PatternMaker is needed?
You need to have MacroGen 4.5 as well as PatternMaker Professional 7.5 or higher version to be able to test and edit the macros.

The program is english.
To learn working with the program several Tutorials are included.
 
See for the special action of PatternMaker Professional and MacroGen Combi PMP & MG
Try the free demo for 30 days!
System Requirements:
For MacroGen 4.5 your computer needs the following requirements:
Windows Windows 10 / 11
minimum Intell i5 of AMD Ryzen 5 processor
8 GB internal memory
50 MB free space
Internetconnection
CD-rom player (when no download)
MacroGen is a Windows programm. It can only be used at a MAC computer with a converter programm like Play-on-Mac, Parallels or WINE.